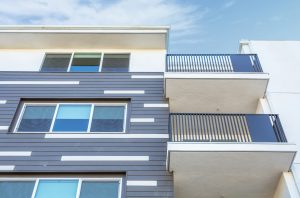 If you've been investing in real estate for a while it's most likely that you have one small apartment building in your portfolio of investment properties, and that's a good thing, because smaller units are quickly becoming a thing of the past especially in large cities like Los Angeles.
In 2017 we saw a total of 358,000 apartment buildings constructed in the United States and 187,000 of those apartments were buildings that had 50 or more units while there were only 27,000 units that had two or nine units.
The number of smaller apartment buildings constructed in the United States in 2017 is shocking considering that there were 288,000 small apartment buildings of two to nine units constructed back in 1973.
Sadly, the reason why we're seeing fewer small apartment buildings constructed in the United States can't be traced to just one reason, there's a variety of reasons including the desire of renters to live in buildings that have great amenities and are closer to the urban core where they have access to jobs and public transportation.
More Reasons for The Shift From Small To Large Apartment Buildings
Much of the shift also has to do with the rise of no-growth, not-in-my-backyard politics since the 1960s. This political movement has been strongest in homeowner-dominated suburbs, and as a result, as Build Zoom chief economist Issi Romem showed in a remarkable study earlier this year, almost all the housing construction in expensive, space-constrained coastal metropolitan areas such as Boston, Los Angeles, New York, San Francisco, and Seattle is now happening in and around established urban centers.

The residential suburbs of these areas have effectively gone dormant, shunting new construction to the neighborhoods — mostly in or near old urban cores — where the neighbors either don't object (because they're in commercial buildings) or don't have much political clout (because they're low-income renters), and local elected officials see benefits in a growing population. In such places, big apartment buildings generally make more sense than duplexes. Also, as barriers to new construction — land costs, labor costs, permitting costs, zoning rules, Nimby opposition, etc. — have risen, the threshold project size needed to turn a profit has increased even in less expensive metro areas.

 Another factor is that limited partnerships, limited liability companies, real estate investment trusts and the like have taken over from individuals as the dominant players in multifamily housing, and these institutional investors tend to be more interested in (and capable of) developing big projects than in building fourplexes here and there. Non-individuals owned 71 percent of all rental units in multifamily buildings and 94 percent of those in buildings with 50 or more units in 2015 when the Census Bureau last asked around, and those percentages have been rising since at least 2001. It's apparent in the above charts (especially the third one) that the shift from small multi-unit buildings to big ones accelerated after the mid-1990s, which happens to be right after the Resolution Trust Corp., the government entity charged with cleaning up the aftermath of the savings and loan crisis, went to great lengths to create an institutional market for such properties.
Contact MW Real Estate Group
2019 is shaping up to be another great year to own investment properties in Los Angeles and there's no better company for investment sourcing, brokerage, acquisitions and property management than MW Real Estate Group.
Learn more about the services we can offer you by calling us at (213) 927-2117 or click here to connect with us online.