12 Jun

House Flipping Versus Multifamily – Which Option Is Better?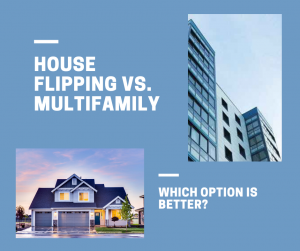 With the United States economy now officially in recession, we may see more distressed properties and foreclosures come to market in the next 90 to 120 days.
This is to be expected because Coronavirus has been responsible for many renters losing their jobs and that of course translates to loss of income for landlords across California.
With the increase in distressed properties coming to the market, investors will have to choose between flipping distressed homes, or purchasing distressed multifamily properties.
In this article, we will break down house flipping vs. buying distressed multifamily properties and provide you with tips on which option is right for you.

House Flipping Doesn't Always Work Out
There's no denying that house flipping is often the most "glamorous" choice to make for a real estate investor because they are motivated by earning fast cash and also from the examples that they see of other house flippers on TV.
Even though most real estate investors will tell you that house flipping is the way to go, the reality is that it's not always the best option.
With house flipping, even though it may be an investor's goal to rehab a house, and sell it as quickly as possible, the reality is that the home may have other issues, or costs, that they were not aware of, that ultimately cost them more money.
Some of the most common overlooked costs that can come from flipping houses include:
Holding Costs – Property taxes, insurance, or HOA fees.
Selling Costs – Realtor commission, transfer taxes, or the home warranty.
Remediation – The cost of removing mold, asbestos, or lead based paint from the property.
Conversion Costs – Money spent on converting poorly used rooms in the property into usable spaces.
It's also possible that the demand for single-family homes may dry up. An investor could get stuck with owning a home that they didn't intend on keeping longer than the time that it takes for them to rehab and sell that property.

Why Investing In Multifamily Properties Is The Better Option
Investing in distressed multifamily properties is always the better option for a real estate investor because it enables them to purchase a multifamily property at a great price.
What's even better is that the distressed multifamily property may already be occupied with tenants, so the investor can start generating rental income immediately.
Buying a multifamily property is also a better option, compared to house flipping, because an investor can scale their income quicker with a multifamily rental than they can with a single-family property.

Contact MW Real Estate Group
At MW Real Estate Group, we're experts at sourcing, acquiring and managing multifamily properties in the Los Angeles area.
To learn more about the services we can offer you contact us today by calling (213) 927-2117 or click here to connect with us online.