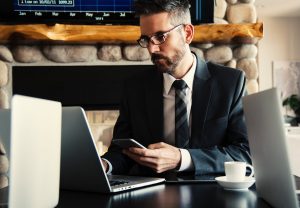 Over the years investors have traditionally looked to what's happening in the bond market to help them determine what they can expect from corporate real estate property prices and cap rates because there's always been a direct correlation between what's happening with bonds and commercial real estate.
If you study the stock market as we do, it's easy to see that the stock market has been on a roller coaster ride recently as investors have been moving their money out of stocks and into bonds. Why? Bonds are a safe investment that enables an investor to "weather" any storm which may occur in the stock market.
Is the current market volatility a sign of a full-blown crash like 1929, 1987, or 2008? It may be too soon to tell, but the flow of money out of stocks and into bonds may be a sign of things to come, and also a sign that more investors will be considering commercial real estate or multifamily as their next investment.
Why Invest in Commercial Real Estate?
Although bonds are a common, safe investment for people to get into in the hope of avoiding huge losses in the stock market, should we have another full-blown market crash, the reality is that commercial real estate makes a much better investment.
Why?
When you invest in commercial rental properties you can expect equity appreciation over time as well as monthly cash flow from rents that may come at much higher levels than your combined costs that you're going to be paying from maintenance expenses, and your mortgage.
Bonds can be considered to be risk-free but the reality is that when you choose a safe investment like most bonds, you can expect a very low yield that ultimately may be below the rate of inflation.
Investing in commercial real estate however can prove to be more advantageous especially where inflation is concerned because bonds only pay investors a fixed rate of interest over the lifetime of the investment.
Commercial real estate typically brings in higher rents during periods of inflation simply because material and labor costs are higher.
Learn More About Commercial Real Estate in Los Angeles
To learn more about the commercial real estate in Los Angeles, or to speak with us about our brokerage and property management services, contact MW Real Estate Group. We are your best resource in Los Angeles for investment sourcing, brokerage for acquisitions, and of course full-service property management.
Call us at (213) 927-2117 or click here to connect with us online.