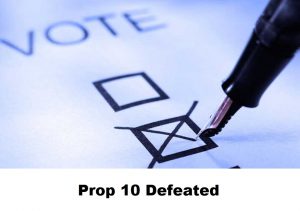 The November 2018 election has come and gone but the good news for real estate investors and renters is that Proposition 10, the measure to give cities the power to enact rent control across California was defeated.
If Prop 10 was approved by voters, Costa Hawkins, the long-standing law in California would have been repealed and we would have seen cities in Southern and Northern California enact rent control on a large scale which would have further inflamed the housing crisis in California.
Why Proposition 10's Defeat Is A Good Thing
There's no doubt that the debate over Proposition 10 has been fierce this year but the reality is that the defeat of this rent control measure is actually a good thing because of the following reasons:
Housing construction will continue – Thanks to the defeat of Proposition 10 we can expect more housing to continue to be built statewide as investors know that California doesn't support rent control on a wide scale.
Investor Confidence – Investors will continue to build and invest in rental housing in California knowing that once built, they will be able to raise the rents in their properties to the fair market value without fear of being blocked by rent control measures.
More Housing Inventory for Renters – With the defeat of Proposition 10, renters can count on continued access to rental properties statewide compared to a potential shortfall of rentals because it was widely projected that many investors would sell their rentals or turn them back into residential homes if Prop 10 were approved.
What Happens Next?
The solution to high rents in California isn't rent control, it's housing supply because, without adequate supply to keep up with the demand for rentals in California we're going to continue to have the same problem of renters not having enough properties to choose from.
What's the solution to the problem of high rents in California? The solution is for more housing to be built in both Northern and Southern California because, once renters have more properties to choose from the supply vs. demand problem will become a thing of the past and we could see a decrease in rents statewide.
Get Full Service Investment Brokerage and Asset Management Here.
Need property management in Los Angeles? MW Real Estate Group is your best resource in Los Angeles for investment sourcing, a brokerage for acquisitions, and of course full-service property management.
Let us save you the time, money and hassle of searching for, acquiring and managing Los Angeles rental properties.
Learn more by calling us at (213) 927-2117 or click here to connect with us online.