23 Jun

California Eviction Moratorium Rescinded – Will Not Be Extended Past July 28th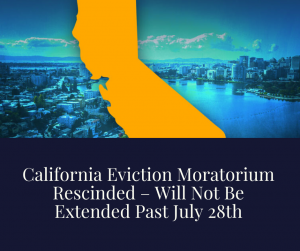 California landlords received good news recently when it was revealed that Doug Michie, a Ventura based landlord, filed a complaint in California's 3rd District Court that will effectively end the State of California's eviction moratorium on July 28th, 2020.
Although he is a lawyer, Michie filed the lawsuit on behalf of his wife, a Bay Area-based landlord. She owns several rental properties that have been affected by the State's eviction moratorium and has been unable to collect rent for months.
In his complaint, Michie cited text from the U.S. Constitution as the reason why the Governor's eviction moratorium must not be allowed to continue past July 28th, even though many groups in California are pushing for radical another extension including radical measures like canceling rent.
"No State shall … pass any … law impairing the Obligation of Contracts" (Article 1, Section10, US Constitution) …" Nor shall private property be taken for public use, without just compensation" and…Violations of Substantive Due Process (5th Amendment US Constitution).
What Comes Next?
As of June 2020, landlords in California have lost more than $1 billion in rent thanks to the statewide eviction ban.
There's no easy way to repair the damage from the eviction ban. The only real way to move forward is to let landlords, especially "mom and pop" landlords, proceed with evictions after the statewide ban ends on July 28th, unless they have already negotiated payments with their tenants to keep them in their rental properties.
Can Tenants Still Block Evictions?
In the current economic climate, the State of California would likely have attempted to extend the eviction moratorium for another 60 days after the current extension expires on July 28th. The good news is that thanks to Doug Michie, lawmakers cannot try further legal "maneuvering" to stop evictions and they finally have to move forward.
Contact MW Real Estate Group
At MW Real Estate Group, we're experts at sourcing, acquiring, and managing profitable multifamily properties in the Los Angeles area. To learn more about the services we can offer you, contact us today by calling (213) 927-2117 or click here to connect with us online.