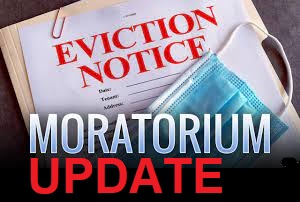 03 Sep

Supreme Court Overturns Latest CDC Eviction Moratorium

Could the CDC Eviction Moratorium finally be over?

Thanks to the latest move by the Supreme Court, it's likely that the CDC Eviction Moratorium has finally ended, especially since the White House has been distracted with recent events in Afghanistan, and politicians on both sides attempt to assign blame to each other.
What Comes Next?
The recent extension of the eviction moratorium was a brazen attempt by the Biden Administration to once again temporarily delay evictions, and even President Biden knew that his recent efforts were not likely to stand.
With the recent Supreme Court ruling, evictions will likely move forward now after being delayed for more than one year, but in California renters continue to benefit from a statewide eviction ban that lasts until September 19th.
California is not alone with its eviction ban because Illinois, Washington DC, and New Jersey all have their eviction bans as well.
It's likely that once California's eviction ban does finally expire, we may see evictions occur to some degree, barring further spikes in COVID-19 transmission levels which could lead California's politicians to potentially back another eviction ban until the spring of 2022.
A Grave Threat To Property Rights?
There's no denying that eviction bans were necessary during the height of COVID-19, when there were still a lot of 'unknowns' about the virus.
As more people get vaccinated nationwide thought, and cities like Los Angeles return to normal, it's time for eviction bans to end as well.
The Government continued support of eviction moratoriums has infringed on the rights of property owners and made it possible for many tenants nationwide to get by with paying little to no rent for the last 12 months or longer.
In the Los Angeles area, recent estimates show that landlords are owed as much as $3 billion in back rent, so it's time for landlords to get back on track financially before we see a wave of evictions hit the United States in 2022.
Contact MW Real Estate Group
At MW Real Estate Group, we sourcing, acquiring and managing multifamily properties in the Los Angeles area.
If you need property management for your multifamily property, contact us today at (213) 927-2117 or click here to connect with us online.