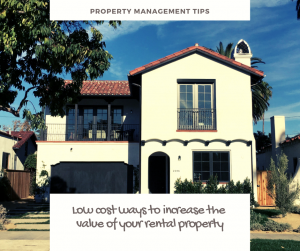 Are you searching for low-cost ways you can increase the value of your Los Angeles rental property? If so, you've come to the right place!
In this article, we will share with you several ways you can increase the value of your rental without spending a ton of money.
Paint Your Rental Inside and Out
The first way you can increase the value of your Los Angeles rental property without spending a lot of money is painting it inside and out.
A fresh coat of paint will help to improve the look of your rental property on the inside and outside but what's great about this improvement is that paint doesn't cost a lot of money and it's something you can easily do yourself.
Tip – When choosing paint colors make sure you stick with neutral colors because your goal should be for a prospective renter to envision themselves living there and not be distracted with bold colors.
Improve Curb Appeal
You may have a great rental property in Los Angeles but how does the curb appeal look? If the property looks like it hasn't been maintained in a few years then you should take the time to improve curb appeal by doing the following:
Clean up the landscaping.
Plant new flowers/shrubs/trees.
Re-seed or plant new sod.
Power wash the driveway/parking area in front of your rental.
Add a new mailbox (if needed).
Add new street numbers to the outside of your rental property.
Paint the front door a bright color that will be noticeable from the street.
Add New Attic Insulation
Another great thing you can do to improve the value of your rental property is to add new insulation to your attic.
Nobody likes to live in a rental where the money they are spending on energy costs is leaking through the roof plus new insulation will definitely help to increase the resale value of your property.
Update the Kitchens and Bathrooms
Last of all, but most important, some additional things you should consider doing to increase the value of your rental property is to update the kitchens and bathrooms.
You don't have to spend a ton of money updating these rooms either since you can repaint them then keep the existing cabinets by either sanding, refinishing, or repainting them then update the look of the cabinetry by adding new drawer pulls, knobs, or cabinet hardware.
Get Full-Service Property Management in Los Angeles
Tired of managing your Los Angeles rental properties yourself? MW Real Estate Group is your best resource in Los Angeles for full-service property management including investment sourcing and brokerage for acquisitions.
To learn more about the property management services we can offer you contact us today by calling (213) 927-2117 or click here to connect with us online.